The purpose of flexible packaging is both, to protect the customers products and to make it look attractive. Food safety and hygiene are crucial issues for human food consumption, as well as insuring the safest packaging material that will preserve the freshness and quality of the product. Highest hygiene standers are applied during each phase of the production. In terms of visual impact, flexible packaging is one the most important tools of sales and marketing. A customers has at all the times access to our team of specialist in graphic design, color management, printing and packaging machine compatibility.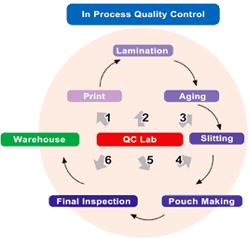 By our internal quality policies along with the international standards we equal demands, form all our suppliers to comply with the same quality policies. material quality, hygiene and print quality standers are strictly controlled by our well trained quality control team.
Test & Inspections
Our Quality Control Department ensures product quality & standers by routinely performing the following tests.
Solvent Retention
Heat Seal Strength
Lamination Bond Strenght
Tensile Tests
Thickness Measurments
Unit Weight Measurements
Color Deviation & Opacity Tests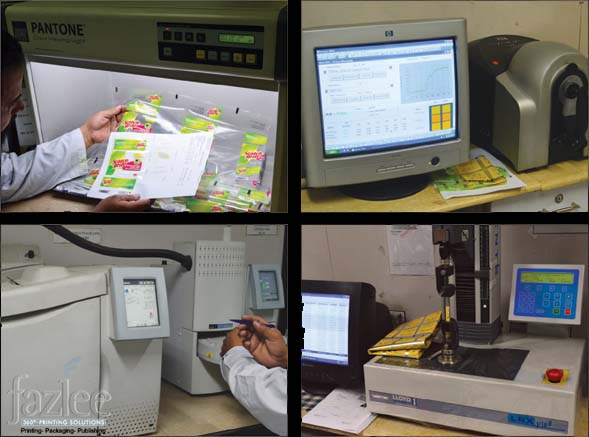 ISO CERTIFIED 9001:2000 QMS CERTIFIED:
Five Seconds That is how long we have to grab the consumer's
attention.  So your product package has to be perfect. We take this responsibility very seriously. Our quality assurance measures are infused through every step and every stage of our creative, manufacturing, and delivery processes. We take to ensure the highest quality packaging every time.
As an ISO 9001:2000 registered company, ALL PACKAGING COMPANY has taken the steps to ensure that we have the documentation and controls in place needed to provide the consistent quality that our customers, and their customers, demand.
Our quality assurance technicians keep a constant watch over every detail in the process,

from the front door to the back. Every machine operator knows, follows and documents detailed quality instructions. Stated in a few words "WE GET IT".
Certifications and Achievements: